Regular price
$37.00
Sale price
$22.00
Unit price
per
Sale
Sold out
20% OFF ALL ORDERS OVER $250
Applies Automatically At Checkout.
View full details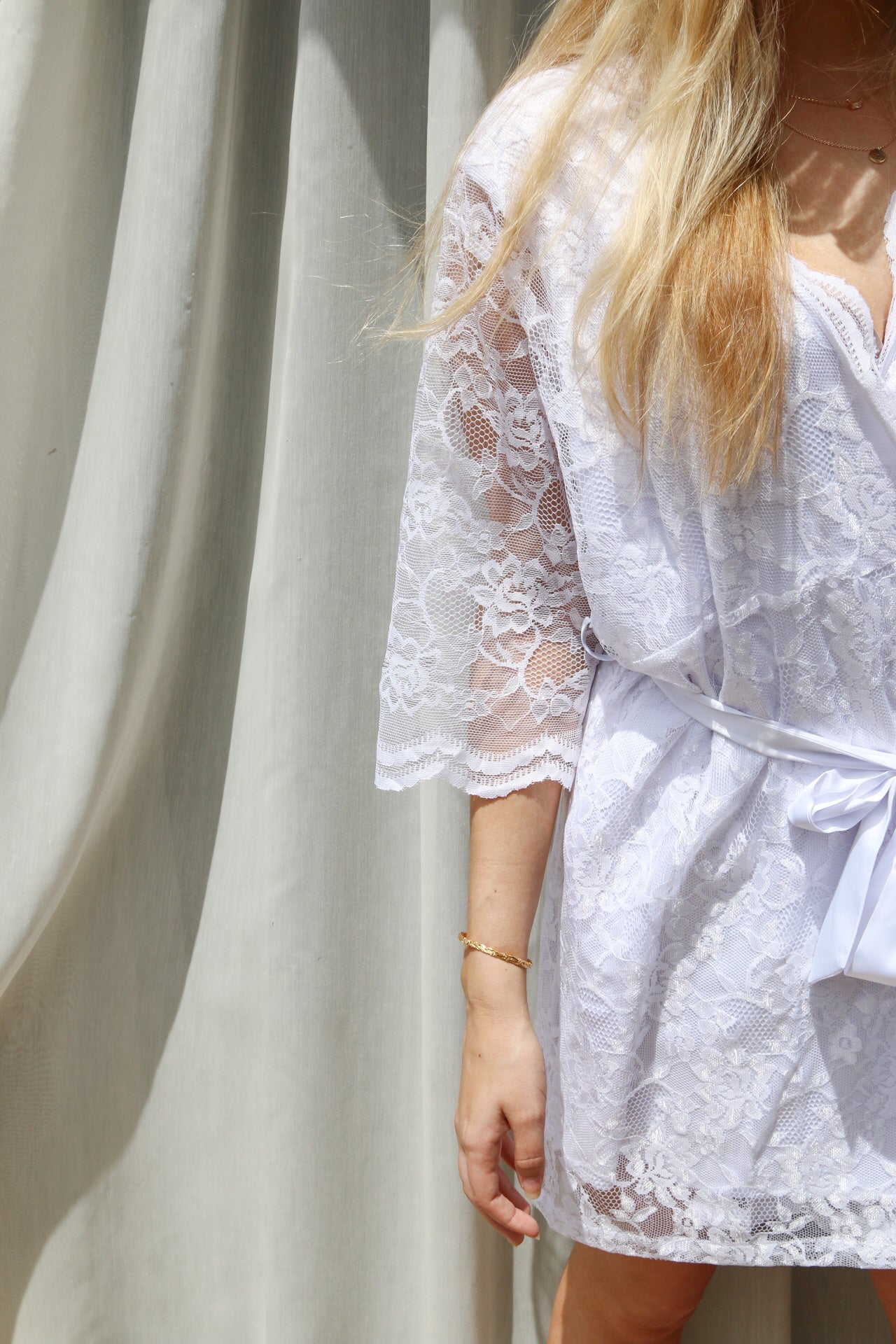 Product Details
Step into a world of sheer elegance and make a statement on your wedding day with the captivating All Lace Melanie Bride Robe. This robe, designed to enchant, is a unique choice that sets you apart from traditional bridal robes.
With its above-the-knee length, the All Lace Melanie Bride Robe offers a modern twist on bridal fashion. Its contemporary silhouette allows for ease of movement and showcases your legs, adding a touch of allure to your bridal ensemble.
What sets this robe apart is its exquisite lace design. The delicate lace sleeves, adorned with a special and intricate pattern, create a stunning focal point that beautifully frames your upper arms. This unique lace detail is a testament to the exceptional craftsmanship of the All Lace Melanie Bride Robe, ensuring that you feel like a true vision of beauty on your special day.
The beauty of this robe extends beyond its aesthetic appeal; it is designed with practicality in mind. The attached slip provides convenience and ensures a seamless fit, eliminating the need for additional undergarments. This thoughtful feature allows you to effortlessly slip into the robe, saving you time and ensuring optimal comfort throughout your busy wedding day.
The All Lace Melanie Bride Robe is an exceptional choice for the discerning bride who seeks a blend of contemporary style, intricate lacework, and unparalleled comfort. It is a true testament to your unique personality and a celebration of your individuality. Step into your wedding day with confidence, grace, and a touch of modern sophistication that only the All Lace Melanie Bride Robe can provide.
Model wearing size small.
Slip dress attached to the robe.
 Check out our Bride Squad Personalised Shirts for your day wear!