Regular price
Sale price
$175.00
Unit price
per
Sale
Sold out
20% OFF ALL ORDERS OVER $250
Applies Automatically At Checkout.
View full details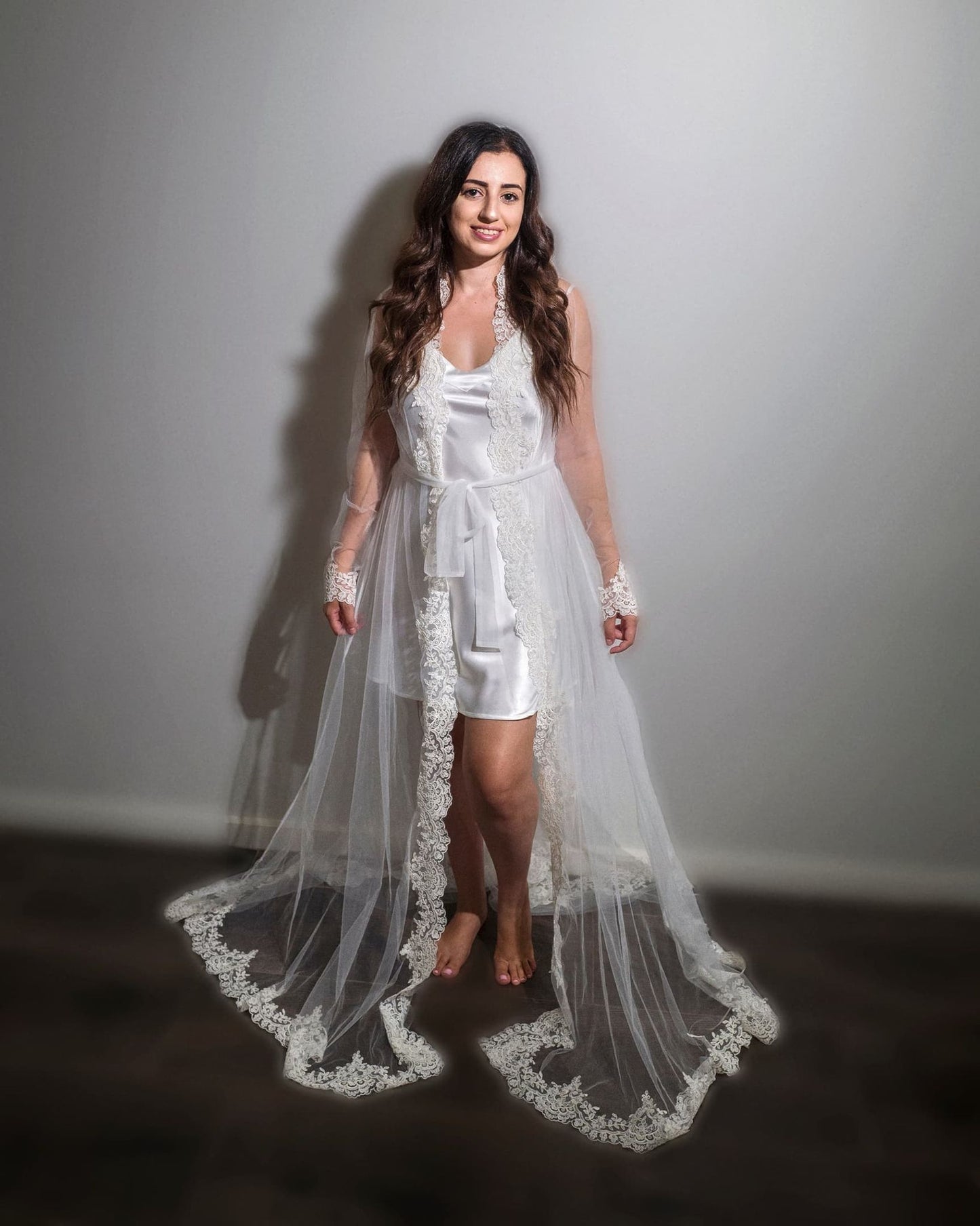 Product Details
Are you searching for a truly special and distinct option that sets you apart from the traditional gowns and bride pjs? Look no further than our Emalie Long Lace Trim Robe, a unique choice designed to make you stand out on your special day. With its specially crafted long lace trim, this robe exudes elegance and sophistication, providing you with a luxurious and unforgettable experience.
Unlike ordinary bridal robes, the Emalie Long Lace Trim Robe offers a unique twist that makes you feel exceptional. It's long lace trim adds a touch of luxury, making a bold statement and ensuring that all eyes will be on you. It's the perfect choice for brides who want to showcase their individuality and style, making a lasting impression on their wedding day, even during the preparation.
To ensure the perfect fit, the Emalie Long Lace Trim Robe is available in four sizes: S, M, L, and XL. We believe every bride deserves to feel comfortable and confident on their special day, and our range of sizes caters to a diverse range of body types. Whether petite or curvy, we have the ideal fit for you.
As a bonus, the Emalie Long Lace Trim Robe includes a slip dress. This enhances the overall look and feel of the robe and adds an extra layer of comfort and convenience. You can effortlessly slip into the robe and enjoy the perfect combination of style and ease.
To ensure a delightful unboxing experience, our Emalie Long Lace Trim Robe is presented in a unique draw box with our signature "Get Spliced" packaging. We believe that the joy of receiving and unwrapping your robe should be just as memorable as wearing it.
Indulge in the elegance and luxury of our Emalie Long Lace Trim Robe. Experience a robe like no other, designed to make you feel extraordinary on your special day. This robe is the epitome of sophistication and style. Choose our Emalie Long Lace Trim Robe and make a statement that will be remembered for a lifetime.
Check out our Bride Squad Personalised Shirts for your day wear!