Regular price
$25.00
Sale price
$22.00
Unit price
per
Sale
Sold out
20% OFF ALL ORDERS OVER $250
Applies Automatically At Checkout.
View full details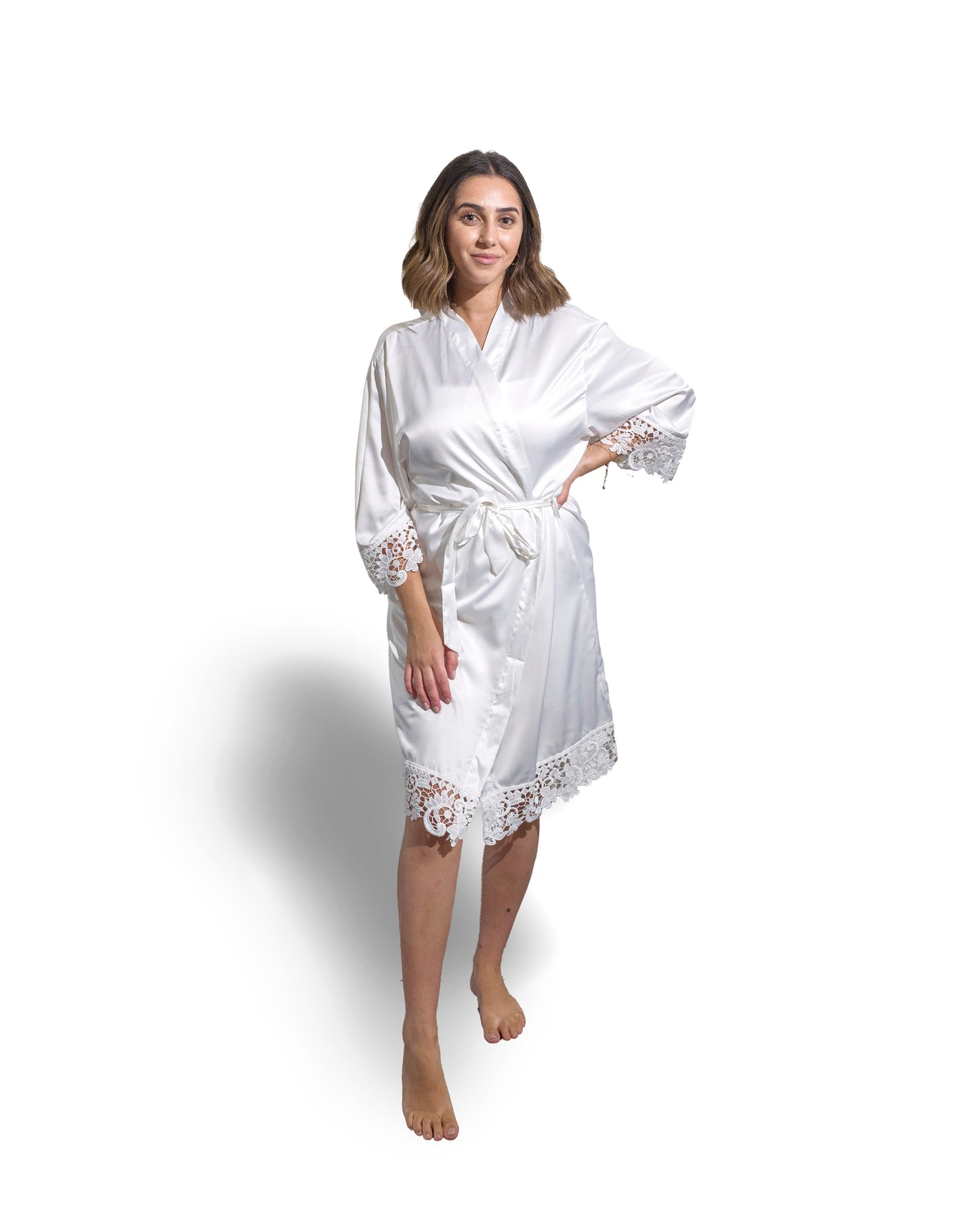 Product Details
If you're in search of an elegant and sophisticated robe, look no further than our Eloise Satin Lace Robe. This exquisite piece is designed to elevate your everyday wear, making it perfect for day or night occasions. Whether you're getting ready for a bridal party, hens party, or wedding day preparation, this robe is a must-have for the bride and her squad.
The standout feature of the Eloise Satin Lace Robe is the intricately tailored lace adorning the sleeves and bottom of the garment. This delicate lace adds a touch of femininity and elegance, transforming the robe into a truly stunning piece. The attention to detail and quality craftsmanship ensure that you'll feel like a bride or bridesmaid deserving of the spotlight.
Our Eloise Satin Lace Robe is available in two sizes to cater to a wide range of body types. The One Size option is suitable for sizes between Small and Large and the Plus Size For XL to 3 XL, ensuring a comfortable fit for everyone. We believe that every woman should feel beautiful and confident, which is why we've designed our robes to be inclusive and accommodating.
Choose from an array of beautiful colours to suit your personal style and preference. The options include White, Black, Pale Blush, and Dusty Blue. Whether you desire a classic bridal look, a sophisticated black ensemble, or a soft and romantic blush hue, we have the perfect colour to complement your vision.
Personalisation is key when it comes to bridal robes, and while our Eloise Satin Lace Robe does  come with personalised options for Front, Black or Front & Back Placements. Its timeless design allows for easy customisation should you wish us to add your own personal touch.
Make a statement on your special day with our Eloise Satin Lace Robe. Embrace the elegance and sophistication it offers while creating unforgettable memories with your bridal party. With its superior craftsmanship and attention to detail, this robe is a must-have for any bride or bridesmaid seeking comfort, style, and a touch of luxury. Choose the Eloise Satin Lace Robe and let it be the perfect companion for your bridal journey.