Regular price
$22.00
Sale price
$20.00
Unit price
per
Sale
Sold out
20% OFF ALL ORDERS OVER $250
Applies Automatically At Checkout.
View full details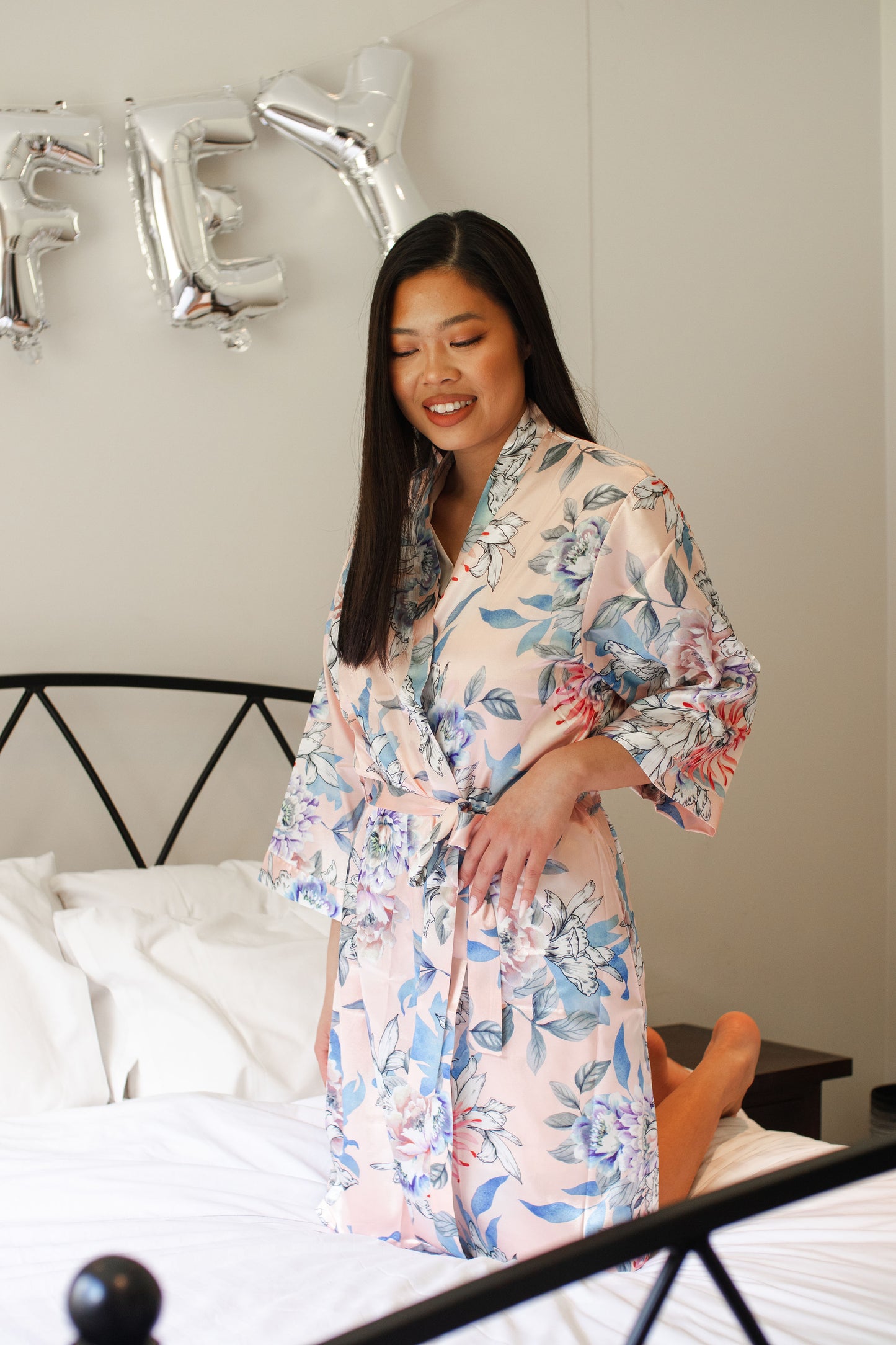 Product Details
Introducing the Blossom Floral Robe – a luxurious and elegant addition to your bridal party or personal wardrobe. Crafted with utmost care and attention to detail, this exquisite robe offers a perfect blend of style, comfort, and customisation options.
Available in a range of five captivating colours, the Blossom Floral Robe is designed to complement any wedding theme or personal preference. The soft and silky satin fabric drapes gracefully, enveloping you in a cloud of sheer indulgence. Slip into its sumptuous embrace and experience the ultimate comfort as you prepare for your special day or simply unwind in sheer opulence.
Perfect for bridal occasions and bridesmaids alike, this premium robe boasts an enchanting floral pattern that exudes timeless elegance. The delicate blossoms and lush foliage dance across the fabric, adding a touch of ethereal charm to your ensemble. Each robe is meticulously crafted to ensure a flawless finish and a fit that flatters every silhouette.
The Blossom Floral Robe isn't just a beautiful gown; it's a statement of style and sophistication. The intricate floral pattern, delicately woven into the fabric, showcases the artistry and attention to detail that went into its creation. The vibrant colours of the blossoms pop against the serene background, adding a touch of vibrancy and elegance to your attire.
To make your Blossom Floral Robe truly one-of-a-kind, we offer personalisation options. Choose to have your name or initials beautifully added to the front, back, or both, adding a personalised touch that captures the essence of your individuality. This thoughtful customisation option also makes the robe an exquisite gift for your bridal party, ensuring they feel cherished and appreciated on your special day.
Indulge yourself or treat your loved ones to the luxurious comfort of the Blossom Floral Robe. Whether you're preparing for a wedding, a spa day, or simply desiring a moment of pampering, this robe is an embodiment of sophistication and relaxation. Experience the epitome of bridal elegance and embrace the joy of being enveloped in satin perfection with the Blossom Floral Robe.
Available in two sizes (One size & Plus Size) catering for XS to 3XL, the Blossom Floral Robe accommodates a wide range of body types, ensuring the perfect fit for every individual. Whether you're petite or plus-size, embrace the confidence that comes with wearing a robe tailored to your unique shape.